REPUBLICAN DEBATE POLL RESULTS
(from 8/7/07)
Below is a copy of the latest
poll results
for the 8/5/07 Republican debate. (Updated 8/7/07)
It looks like Ron Paul by a landslide. A huge one, in fact. Just like every other post-debate poll.
36,893 for Paul
, vs.
--4,501 for Romney, vs.
--3,194 for Ghouliani, vs.
--2,659 for Huckabee, vs.
--1,044 for Brownback, vs.
---758 for Tancredo, vs.
---755 for Tommy Thompson, vs.
---731 for McCain, vs.
---421 for Duncan Hunter
Total votes 57,233
.
Below is a link to the poll
results
from the previous Republican debate.
Poll Results
Below is a copy of the previous post-debate results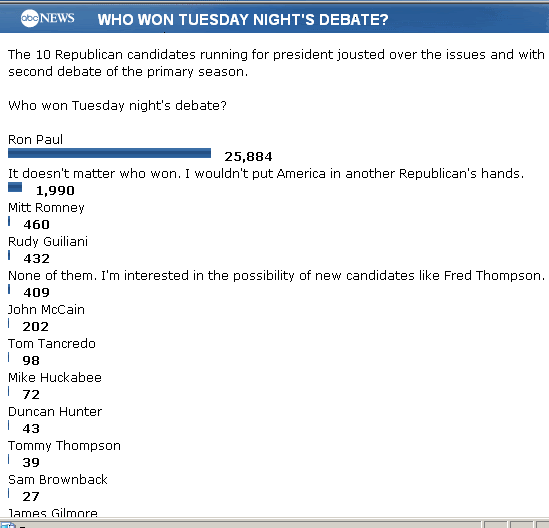 Ron Paul is winning them all, despite being shunned by the Corporate media plutocracy.
I guess they're afraid that a President Ron Paul would break up their monopolies and reduce their profits.