Has the Recession Arrived?
Monthly Factory Orders increased only 1% for the month of February, much less than the +1.8% increase predicted. This follows January's decline of -5.7%. Over the last year, however, Factory Orders are down -1.1%. Ex-transportation orders for February declined -0.4%, following January's -2.5%. This was the 6th month out of the last 7 that ex-transportation orders have declined. February's total factory orders of $386 billion marks a 5% decline since December's seasonally-adjusted $406 billion.
Even some of the previously bullish experts are expressing newly found "concerns." Today's
Factory Order
report from Briefing.com states "
The downward trend in factory orders is tuning in to a real economic concern. The struggling auto and housing sectors add to the softening in business capital investment as business confidence is fading with weak economic growth.
" They've also expressed a new concern for declining demand, as evidenced by their bolded statement "
lack of demand is the heart of the manufacturing concern....
." (At long last, some of the market experts are acknowledging that someone has to
buy
goods if they are going to be produced, and that unpurchased goods don't help the economy. Hallelujah!)
Despite this month's small increase in Factory Orders, the long term trend is clearly downward. This can be seen from the 3 graphs below from Briefing.com.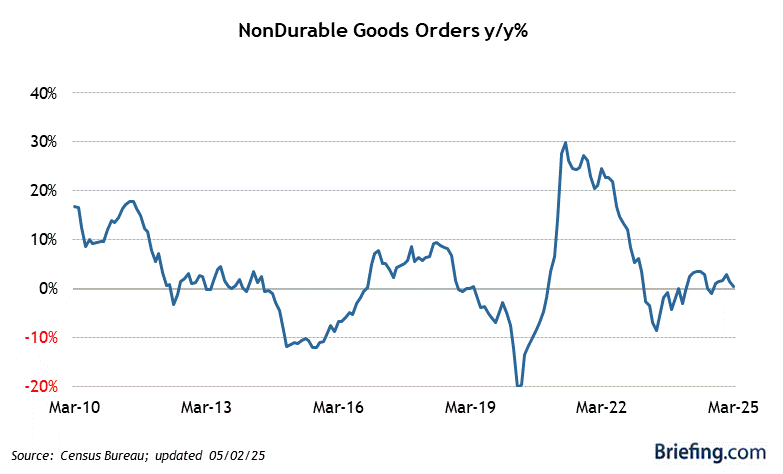 The Durable Orders decline has been even worse than overall Factory Orders decline. The recently reported Durable Goods Orders increase for February was revised from March 28th's previously stated 2.5% down to a 1.7% increase on April 4th. Comparing the last 3 months total (December, January, & February) for Durable Orders with the same 3 months from the previous year, Durable Goods Orders are down 4.7%, from a 3-month total of $663 billion to $631 billion. This can be seen from the combined, modified charts below from the Census Bureau's April 2007's Factory Orders report and March 2006's Durable Goods report. (April 2007's report is on the top, March 2006 is on the bottom. Durable Goods Orders are underlined in red.)
The American manufacturing sector is clearly in recession. Combined with rapidly declining housing sector, with a subprime meltdown that is metastasizing to other financial sectors, it's difficult to see how this can be called a "strong" economy. It is even more difficult to see how the overall economy won't drift into a recession (if it's not in one already.)