HOUSING BUBBLE UPDATE: WESTERN U.S.
The Housing Bubble is deflating rapidly in most large Western markets. All major markets in Southern California, except for Riverside, have shown significant declines in the last 6 months. (Riverside has had a 0.0% increase in prices over the last 12 months.) Median home prices over the last 12 months have declined 6.2% in Los Angeles County and 5.5% in San Diego County. In Orange County, CA, prices have declined 0.8% over the last 6 months (12-month figures are not available.)
The 2 biggest non-California markets, Phoenix and Las Vegas, have experienced similar declines. Over the last 12 months, Phoenix home prices have declined 10.5% while Las Vegas prices have declined 4.0%. Below is a modified copy of the charts from Housing Tracker.com.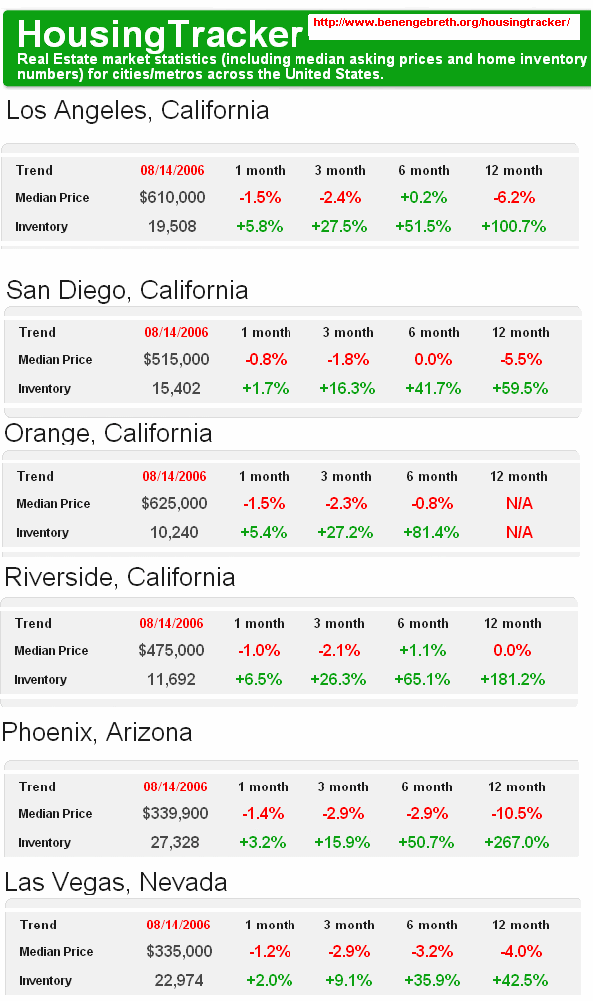 The above information can be found at
Housing Tracker
Inventories are rising even faster than prices are dropping. Home inventories have increased 100% in Los Angeles County, 181% in Riverside, California, and a whopping 267% in Phoenix. As inventories continue to rise, prices can be expected to decline even further.
EconomicPopulistForum